The FASTER project aims to support excellence in research on adaptation to climate change in land and water management, including innovative governance, and its transference into praxis through focussed management and promotion, through the following objectives:
Increase the research excellence
of INRGREF
related to agroecosystems' adaptation to the impacts of climate change for sustainability through collaboration with experts of two international-leading research institutions. The implementation of multidisciplinary research excellence, specialised capacity building trainings, as well as staff exchanges,
will support that objective. Moreover, the collaboration focuses on increasing the number of peer-review publications and international competitive projects.
Develop a Knowledge
transfer framework
to engage Tunisian entities and third parties to produce excellent scientific research and technology jointly, and enhance the use of its results by developing new lines of research, technical skills and competencies. Besides, there is an objective of fostering the inclusion of this knowledge into an institutional agenda and consolidating evidence-based policymaking.
Support the institutional networking and international reputation of INRGREF.
To strengthen the consortium collaboration and to advance the partnership with international-leading research institutions, measures will be designed and implemented:
• Improved access to international networks and platforms
• Development and operationalization of awareness-raising campaigns
• Stakeholders and public engagement processes,
• Internationalization, innovation and co-creation
• Dissemination of knowledge, leadership and effective communication.
Support FAS sustainability
in Tunisia
by enabling the application of innovative solutions, sharing knowledge and best practices. The above will be achieved also by mainstreaming to local farmers and policy-makers of research results and technology linked to forestry and agricultural sectors who need to face climate change and related challenges, as well as the awareness-raising and promotion of related SDGs topics within the target groups of the project.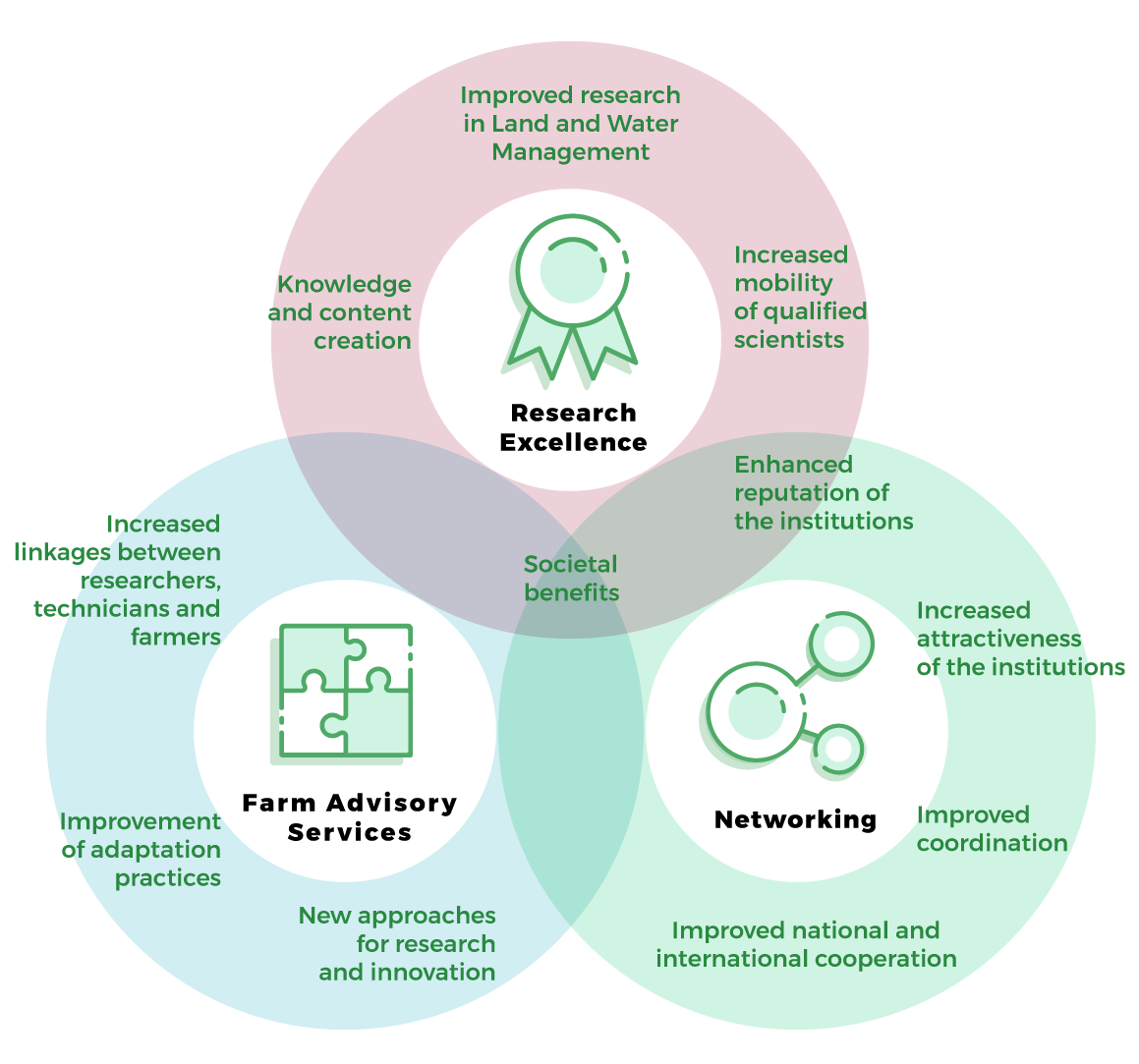 The ultimate goal of FASTER is to support INRGREF to become an internationally stronger and more capable centre, able to lead more competitive and sustainable research on land and water management for climate change adaptation in Tunisia, as well as the application of research results into FAS services. To achieve that goal FASTER follows four objectives, for which we can observe concrete results.
1. Increase knowledge through 3 training programmes:
Basic and Cross-cutting Multidisciplinary Trainings for decision-makers and researchers (2019)
Specialized training activities to increase research performance indicators (2020-2021)
2. Increased knowledge exchange through a mobility programme
1st year – 2019:
3 study visits of researchers
and 2 of PhD students to
European research centres
3rd year – 2021:
5 researchers and
PhD students
supervised online
3. Increase of publications in peer-reviewed journals
4 publications and 4 validated publications
for 2021
+550
followers on social media to share about INRGREF activities
+450
participants on the first step of capacity building
+1000
project flyers in English, French and Arabic distributed to inform on Faster
+15
International events attended to promote FASTER and its partners
9
newsletters distributed with 870+ subscribers
• Creation of a list of indicators of excellence for Tunisian research.
• Writing of guidelines on new research avenues and approaches
• Creation of a job bank for FAS young professionals.
• Mapping of current and potential business Alliances and initiatives.
• Operational living lab on FAS services in 2020
• Summer school program for young technicians on FAS concept and opportunities in 2020
• A Multi-stakeholder platform for improving FAS services.
• E-learning course addressing FAS technicians (training of trainers).
• Future production of 4 video tutorials on how to support FAS
• Future creation of 30 factsheets on concrete adaptation solutions.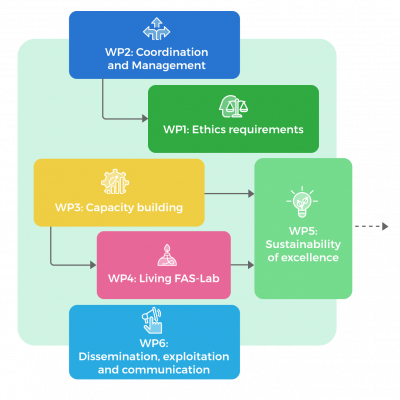 WP leader: INRGREF
The main objective of this Work Package is to ensure compliance with the 'ethics requirements' set out. Such requirements will follow the specific legislation of the countries involved in the project as well as the good practices carried out by the different participant organisations.
Summary of the requirements:
H – Requirement No. 1: All the procedures and criteria used to identify participants, as wells as their consents and templates of the informed consent must be submitted as deliverables.
POPD Requirement No. 2: A Data Protection Officer (DPO) must be appointed. If GDPR does not apply, a detailed data protection policy for the project must be kept on file. All the data processed must follow a thorough examination to make sure it is used only to the purposes of the project and assure its security. EU/non-EU (and vice versa) data transfer should follow GDPR and/or the country's legislation.
GEN Requirement No. 6: An Ethics Board must be established, which includes relevant independent expertise to monitor the ethics issues in the project and how they are handled. The Board will provide consultation on the final video documentary.
NEC – Requirement No. 7: Details on the materials which will be imported to/exported from the EU must be kept on file, as well as the copies of import/export authorisations, as required by national/EU legislation
Coordination And Management
WP leader: INRGREF
The main objectives of the Work Package are to provide efficient and effective management of the project, management and coordination of the remaining WPs. The Project Coordinator will also be a communication channel for the EC and maintain an efficient exchange of information with the project team.
The tasks of this work package are:
Overall management of the project (INRGREF): Provide administrative and technical management related to monitoring the different aspects of the project, establish a Project Management Structure, internal communication channels, submission of reports and economic coordination and periodical review of the schedule.
Quality Assurance (EfB): A Quality Assurance Plan will be developed at the kick-off meeting following the methodology for controlling the quality of outputs. Deliverables will be assessed according to the following criteria: quality of the content, length, language, consistency, significant strengths and weaknesses. A final Quality Assurance Report will be part of the Progress report to be delivered at the end of the project.
Organization of project's meetings (INRGREF): Kick-off meeting, SC meetings and Final meeting.
Networking with other initiatives (CREAF): Guarantee communication and coordination with other EC projects working on the same field and also with FAS committees, components, forums, and communities of practices.
WP co-leaders: CREAF and Lund University
The objective of this work package is to increase the development of the human resources and build the capacity of scientific staff within INRGREF on: adaptation to climate change in land and water management; research skills, internationalization, innovation and leadership to improve research excellence, innovation capacity and scientific quality of the institution concerned. It will be achieved through a series of basic, focused and specialized training courses, and short-term staff exchanges.
The tasks of this work package are:
Evaluation of multidisciplinary needs for research excellence [Vision]: 5 cross-cutting and multidisciplinary training activities, including key aspects, knowledge, processes, as well as the development capacities of key-selected staff in understanding, managing and operating at international standards levels, assumed as a first step previous to developing research excellence.
Five Research Excellence training courses [CREAF]: to provide the necessary knowledge and tools to increase performance indicators, provide outputs to the achieved research and obtain the resources to conduce new excellent research.
Mobility program [LU]: Short-term staff visits to European centres will take place under two different programs, depending on the experience of the visitors. Senior INRGREF staff visits will be oriented to develop the necessary links to provide future research proposals, sharing of PhD student projects, co-authoring academic publications. Student and INRGREF staff visits aim to enrich PhD projects, assist to local training and develop future collaboration.
9 Specialized training courses on adaptation to climate change in land and water management, including innovative governance [CREAF&LU]
WP co-leaders: CREAF and INRGREF
The objective of WP4 is to set up one living Lab to test specific FAS solutions targeting the complete series of actors in the farming chain in a selected area. The living Lab will be reinforced by several activities such as summer schools, the creation and maintenance of a multi-stakeholder platform on FAS as well as e-Learning material. The living Lab aims to put into practice state-of-the-art knowledge on adaptation to climate change in land and water management.
The tasks of this work package are:
Creation of local Living Labs [INRGREF, CREAF]: Following a thorough procedure, the living labs will generate the necessary atmosphere and conditions for collaborative learning, evaluation and knowledge transfer improvement between multiple actors throughout the value chain.
Summer school programme for young technicians on FAS concept and opportunities [CREAF, LU]: The Summer Schools are organised as short courses of 1 full week (five working days-excluding travels) for up to 10 participants, selected from all the requests received during the Application Campaign. Participants will have the possibility to interact and share experiences and activities with high-level experts on the subject.
A Multi-stakeholder platform for improving FAS services [CREAF, AVFA]: In order to identify and engage a broad diversity of actors embodying the local farming chain, a specific database of contacts will be developed including information characterising the role and interests of people included.
E-learning to FAS technicians [EFB, CREAF]: The E-training courses complement the work done in other work packages by specifically targeting up to 60 participants including higher education students, young researchers and technicians, representatives of industries and different types of stakeholders at INRGREF, IRESA and partner stakeholders.
Production of fact sheets and video tutorials on concrete solutions [CREAF/Vision]: The compiled information will be used for the creation of an easy-to-use repository of fact sheets on solutions, available toolkits, local and regional assessments, and other information related to adaptation to climate change in land and water management through FAS Events.
Sustainability Of Excellence
WP co-leaders: AVFA and INRGREF
The objective of this WP is to develop and provide the necessary monitoring, network, guidelines, support and tools to maintain the expected achievements in excellent research. Such a framework will provide INRGREF and associated centres to step-up and continue growing under their capabilities and experience.
The tasks of this work package are:
Indicators of excellence [CREAF & LU]: These key performance indicators (KPI) will be chosen according to major goals addressed by a set of actions. Among the most likely indicators to be used are: high impact publication indexes, number of SCI publications, the excellence with Leadership SCImago Institution Ranking, number of transfer seminars, consolidated knowledge transfer income, number of PhD and postdoctoral students, seniors researchers and technicians recruited, proportion of female researchers and technicians, proportion of the centre budget coming from contracts with private sectors, etc.
Dissemination, Exploitation And Communication
WP Leader: Vision Communication
The objective of this WP is to disseminate the work done in the project. The aim is to keep continuous contact with all involved stakeholders as well as to develop a strong international network and reputation. This WP will implement a series of dissemination, exploitation, and communication measures designed to maximize the outreach of project results and network activities, to maximize the input from the community, and to train and transfer knowledge to practitioners enhancing their professional development.
The tasks of this work package are:
Project outreach, engagement and positioning strategy [Vision]: A comprehensive communication plan will be set up at the outset of the project to identify and fix the strategic communication objectives, the type of targeted activities and the deadlines for each of them. It will define the messages for each target audience, as well as the tools and materials to be developed during the project.
Dissemination program for project activities [Vision & INRGREF]: A comprehensive dissemination and exploitation plan will be set up at the outset of the project to identify and fix the strategic objectives, the type of targeted activities and the deadlines for each of them. It will define the messages and channels to arrive at each target audience and encourage their engagement and participation.
Spreading excellence [Vision]: In order to increase the reputation of INRGREF at the international level, different strategies will be developed: 1) Stakeholder contact, creation of database and networking. 2) Assistance for important events related to excellence in research. 3) Two stakeholders' oriented events will be hosted, tailored to host Tunisian project partners and between 6-10 stakeholder guests.
FAS database and networking [Vision]: All the activities directly related to FAS services (principally e-learning course, factsheets and the Job Bank) will be coordinated to extract all potentially useful information to be offered for free. This potential database, including learning modules, concise information on
FAS and access to the Job Bank would be revitalized and developed to include networking tools among interested stakeholders, facilitating upload and sharing of new information.