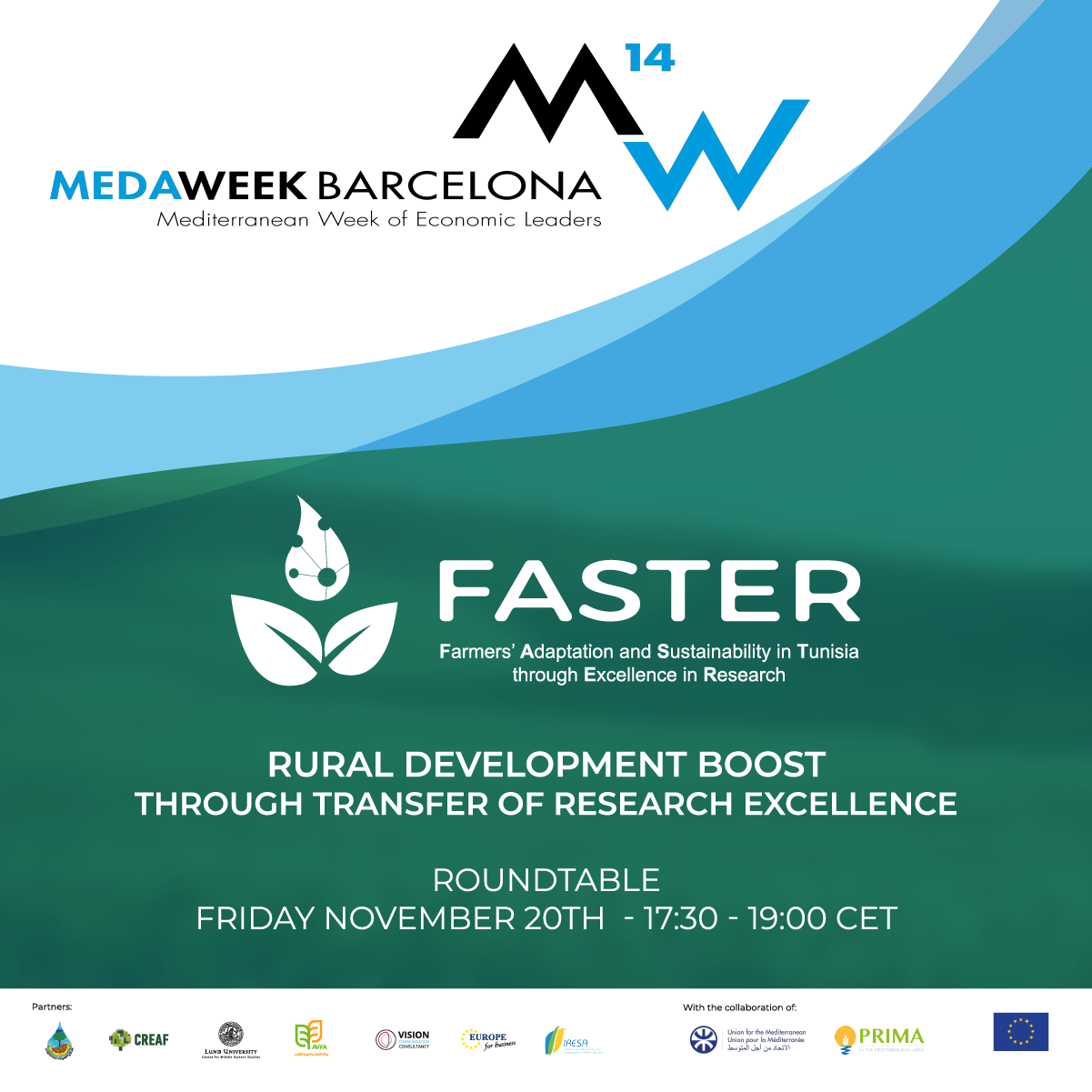 "Rural development boost through transfer of research excellence" – 1st FASTER Brokerage Event
---
In the context of the 14th Mediterranean Week of Economic Leaders (MedaWeek Barcelona), FASTER Consortium, in collaboration with PRIMA Foundation and Union for the Mediterranean present:
RURAL DEVELOPMENT BOOST THROUGH TRANSFER OF RESEARCH EXCELLENCE
Friday 20 November 2020 – 17:30 – 19:00 CET
As outlined by the EC, there is a need for stronger integration of research and innovation objectives in the guidelines of broader industrial and macro-economic policies. It is, therefore, necessary to ensure an appropriate design of sectoral policies and strategies, improving capacity building and resources allocated to the national research and innovation system, as well as to improve knowledge transfer and move up the value chain on an international scale to create an enabling environment for innovation and creativity.
Principal Tunisian sectors depending on land and water management, forestry and agriculture, are key sources of economic growth and rural development. Despite the necessary changes towards industrialization, service sector and tourism in recent Tunisian economic diversification, the agricultural and forestry sectors are still essential for the achievement of national objectives in relation to food security, employment, regional equilibrium and social cohesion, as well as supporting rural livelihoods and employment for about a quarter of the Tunisian workforce.
FORMAT
Roundtable with 20 min speeches and a final open question round of 30 min:
SPEAKERS
ABOUT MEDAWEEK BARCELONA
The Mediterranean Week of Economic Leaders, MedaWeek Barcelona, reaches this year its 14th edition immersed in a context of high uncertainty and social and economic crisis. Therefore, now more than ever, it is necessary for all actors in the Mediterranean region to join forces to face the challenges of the post-pandemic era and relaunch the Mediterranean integration process promoted 25 years ago in Barcelona.