FASTER has recently taken part in AfriAlliance's project webinar on 'How to create Sustainable Communities of Practice in Africa on Water and Climate Activities'. AfriAlliance's main objective is to create a platform in which African and European stakeholders can work together in the areas of water innovation, research, policy, and capacity development in order to strengthen the expertise of Africa for future Climate Change vulnerabilities.
Leonardo Piecinetti, from Europe for Business and FASTER's project partner, attended the event. The webinar covered topics such as how to set up a functioning Community of Practice (Action Group) for demand-driven innovation and sustainability, as well as the lessons learned from AfriAlliance Action Groups. Furthermore, they discussed their Sustainability criteria, Insights from African Practitioners on Sustainable Action Groups, as well as Sustainability Experience from the field from Ubuntu's Action Group.
In addition to helping the attendees learn the different challenges and some of the identified solutions AfriAlliance is currently tackling, the event and follow-up discussions provided an opportunity for participants to network and explore potential future collaborations in developing and testing the African Hub in Water and Climate Change.
Piccinetti commented how the development conducted by the FASTER consortium would be of primary interest to AFRIalliance, so we will keep working closely with them to ensure productive cooperation is made.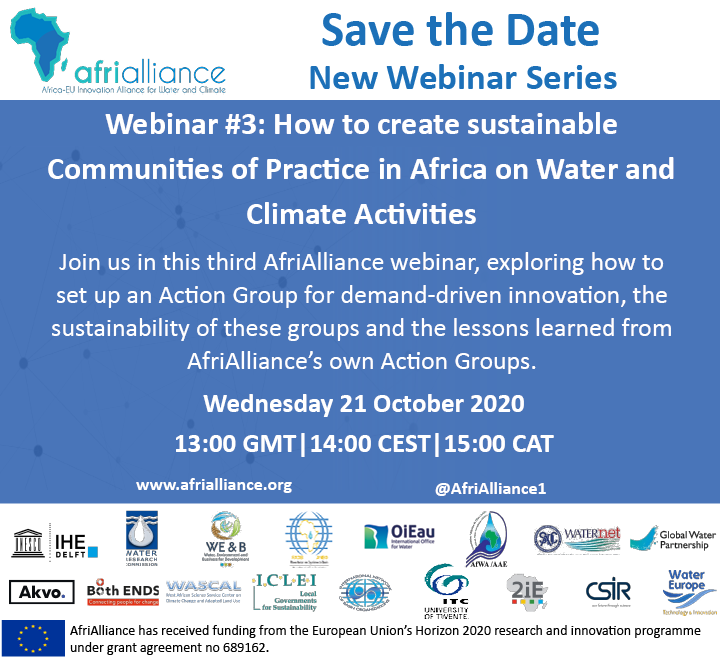 To learn more about our commitment with #ResearchExcellence, follow #FASTERH2020 on Facebook and Twitter

---
Subscribe to our Newsletter to stay informed about the activities carried out by the project.