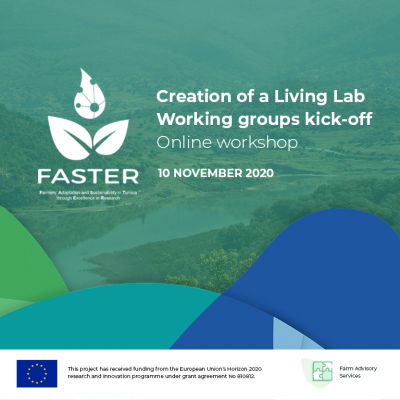 Last week, FASTER Work Package 3 online workshop "Creation of a Living Lab working groups kick-off" took place with the main objective to boost the implementation of the Living Lab process, which up to now has been slowed down by Covid-19. FASTER project partners have adapted the methodology initially based on face to face workshops, creating the conditions to engage participants through a virtual platform.
The 3 hour long virtual workshop attended by more than 30 participants, featured different activities, including video projections to make the session more appealing, rounds of questions and answers to ensure interaction, and obviously, different presentations to highlight the Living Lab's main methods and tools. Participants received an overview of the living lab approach, the main features fostering collaborative work, its calendar and the steps ahead.
People familiarized themselves with the process designed to involve participants with different professional profiles into a co-creation process, aimed at the production of a set of factsheets addressing urgent issues for adaptation in the Tunisian agriculture sector.
During the event, participants were invited to engage with the Living Lab process by sharing their knowledge with specific thematic working groups and fostering the uptake of opportunities from the local context to enhance the impact of the Living Lab activities.
The workshop's output: the FAS Living Lab Factsheets
After the Virtual workshop, each Living Lab working group will be able to start the drafting process of their factsheet, under the practical and scientific guidance of the FASTER Living Lab Committee. A helpdesk was created for assisting participants to both access and comfortably use the virtual platform that will be used to ensure the virtual interactions. A total of at least 30 factsheets will be developed and finalised by the autumn of 2021. Each working group can develop different factsheets and the final outputs will be streamlined into the Farmer Advisory System in Tunisia.
What is the FASTER Living Lab?
Launched in October 2019, the FASTER Living Lab focuses on knowledge transfer on adaptation to climate change strategies between researchers in the field of water, soil and forest management, and practitioners engaged in the Farm Advisory System in Tunisia (FAS).
It engages concerned actors from several collaborating organizations and fosters the collaboration of multiple experts and stakeholders willing to transfer their knowledge on adapting Tunisian agriculture to the impacts of climate change through FAS.
Our Living Lab aims to:
Integrate research results on adaptation into FAS. The living lab aims to enhance the knowledge exchange between researchers and practitioners from the agricultural sector on solutions to adapt to climate change.
Improve FAS as a tool for adaptation. The living lab aims to foster addressing concrete challenges of current FAS to provide tailored support to farmers for facing the impacts of climate change.
To learn more about our commitment with #ResearchExcellence, follow #FASTERH2020 on Facebook and Twitter

---
Subscribe to our Newsletter to stay informed about the activities carried out by the project.