Our Project Coordinator Dr Sihem Jebari (INRGREF) and our partner researcher Dr Enrique Doblas (CREAF) have participated in the drafting of the 1st Mediterranean Assessment Report (MAR1) "Climate and Environmental Change in the Mediterranean Basin – Current Situation and Risks for the Future." The report was prepared by the independent network of Mediterranean Experts on Climate and Environmental Change (MedECC) and they were part of the almost 190 scientists from 25 countries that contributed to it in an individual capacity and without any financial compensation.
Dr Sihem Jebari background as an Agricultural Engineer paired with her work as a researcher at INRGREF has allowed her to focus on semiarid and arid areas, especially in regards to water erosion modelling, climate change impacts on water availability, agricultural environment degradation, reservoir siltation and transboundary water management. On the other hand, Dr Enrique Doblas has a vast experience as a researcher on soil biodiversity and ecosystems adaptation to global change. He is also an expert in rural development and is involved in several European projects on boosting Mediterranean forestry innovation and scientific excellence, ecosystem services, natural-based solutions, and other initiatives on forest resilience and management. Both of them have contributed to this report with their knowledge and practice as two of the leading authors of Chapter 2: Drivers of Change. Dr Doblas also acted as coordinating leading author of the chapter.
This chapter determines four main drivers of change in the environment: Climate drivers, Pollution, Land and Sea Use Change, and Non-Indigenous Species. Most sub-regions of the Mediterranean Basin, on land and in the sea, are affected by recent anthropogenic changes in the environment. As a matter of fact, not only natural ecosystems are impacted but human livelihoods, as well. The global and regional trends in the drivers are likely to aggravate the repercussions in the next year, especially if global warming exceeds 1.5 to 2°C above the pre-industrial level. Therefore, significantly enhanced efforts are needed in order to adapt to inevitable changes, mitigate change drivers and increase resilience around the Mediterranean region and the world as a whole.
Here is an overview of the main drivers of change found by the authors of this report:
Climate drivers: The evaluation of different variables suggests ongoing anthropogenic climate change in the Mediterranean region, particularly an increase of mean and extreme temperatures, and dry environmental conditions.

Pollution:

Ocean and inland pollution are pervasive, diverse and increasing across the Mediterranean Basin. This is due to demographic pressure, enhanced industrial and agricultural activities, and climate change.
Land and Sea Use Change: Landscapes and their use have changed over centuries, however, the rate of change has increased substantially since the second half of the 20th century with the rapid growth of urban and peri-urban areas leading to loss of biodiversity and habitats.
Non-Indigenous Species: The Mediterranean Sea (and particularly the Levantine Basin) is a hub for the establishment of many non-indigenous species, whose arrival and increase are linked to the decrease or collapse in populations of native species. Most come from the Red Sea and the Atlantic Ocean, but those introduced by ships and aquaculture produce the largest impact on the environment.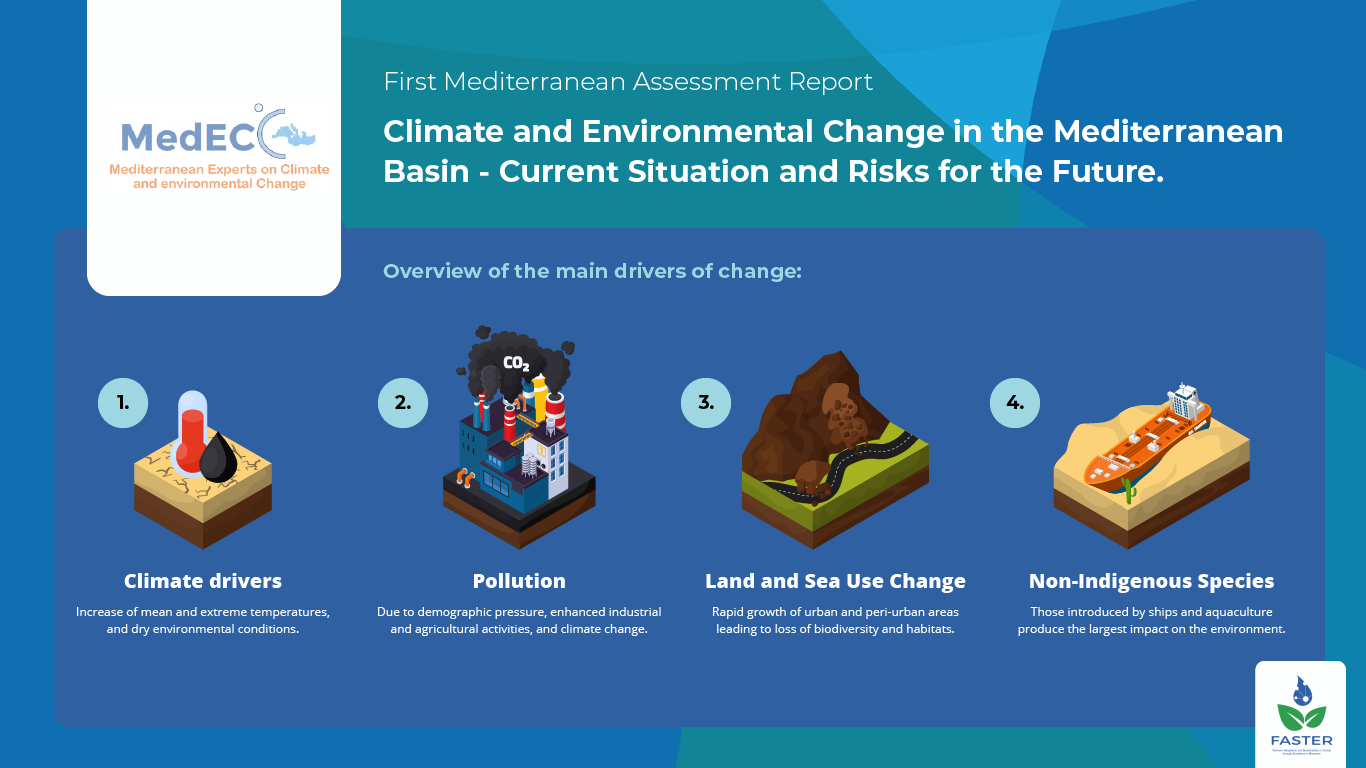 The report, and its findings, in particular, relates to FASTER's objectives of reinforcing international leadership, research and knowledge transfer capacity of INRGREF related to innovative land and water management in view of climate change and its implementation through the use of Farm Advisory Systems (FAS). It clarifies the challenges we must overcome and the topics that should be put under the spotlight in order to enhance our role in a sustainable rural development for our people and the generations to come. It is also a great opportunity to establish a foundation for a communication channel between the agricultural sector and research, furthering not only the amount of investigation but also the excellence of its outcomes.
To learn more about our commitment with #ResearchExcellence, follow #FASTERH2020 on Facebook and Twitter

---
Subscribe to our Newsletter to stay informed about the activities carried out by the project.