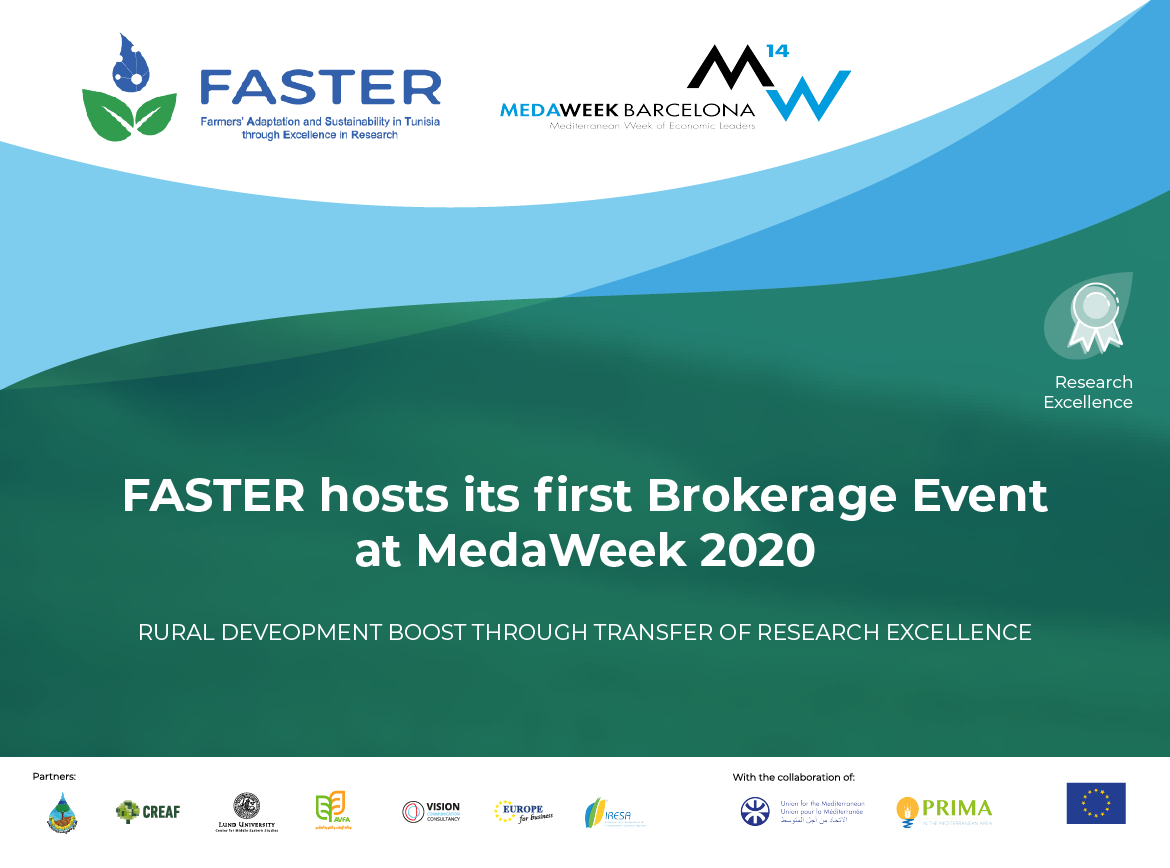 Last Friday November 20th, the Mediterranean Week of Economic Leaders, MedaWeek Barcelona, celebrated its 14th edition. In this occasion, FASTER presented its first brokerage event titled "Rural Development Boost Through Transfer Of Research Excellence.'' The event included a roundtable composed by high-level speakers Giuseppe Provenzano, Research and Innovation Division at Union for the Mediterranean, Ali Rhouma, Senior Project Officer at PRIMA Foundation and Sihem Jebari FASTER H2020 Project coordinator and researcher at Institut National de Recherches en Génie Rural, Eaux et Forêts (INRGREF).
Moderator Annelies Broekman, researcher at CREAF and partner of FASTER H2020 gave a short introduction presenting the projects' main objectives and features. She highlighted the aim to reinforce INRGREF by boosting its leadership and positioning as a research excellence centre, its internationalisation and innovation capacity, as well as its scientific quality and productivity. On the other hand, the project aims ensuring the transference of the knowledge generated by INRGREF on adaptation in land and water management towards the Tunisian agricultural sector through the use of Farm Advisory Systems (FAS).
Successively, Mr. Giuseppe Provenzano discussed the topic of high education and research as a tool for developing the Mediterranean region, highly populated by university students. He provided key takeaways to reflect about in order to further the transformation in the region. This included: enhancing cooperation between the different stakeholders and offering young graduates new competences and means for transitioning as best as possible to the work environment, characterized by its openness to innovation, mobility and its fast pace of changing. In this way, he put a focus on the importance of facilitating knowledge transfer from research to business in the Mediterranean region.
Following the programme, Mr. Ali Rhouma, considered the role of agricultural research and innovation in rural transformation, with a focus in the MENA region. He shed a light on how to assess the process of rural development and transformation through three key indicators: food security and nutrition, food self-sufficient ratio, and employment. In order to have better results in each of the latter pointers it is important to highlight the role of research and innovation in boosting and improving the rural transformation in the region. Therefore, he concluded that the actual linear model of agricultural development must be paired with collective and interactive innovation models. This interaction should flow between researchers, innovators and facilitators. Great examples of good practices nowadays include AKIS and digital agriculture.
Furthermore, Ms. Sihem Jebari agreed on the importance of a new model and introduced in her presentation the concept of Research Excellence, the different notions related to it, and the ongoing process of internationalization of INRGREF. She explained that Research Excellence is not only conducted by academia and research centers, but also by national institutions and industries. Therefore, it is crucial that it develops widely across global cultures. Research Excellence is based on new observations and interpretations in order to try to solve complex problems of our societies. There is currently an extensive debate related to the breadth and depth of the meaning of excellence, its capacity to provide quantitative assessments of research activities and its potential support policy choices. Excellence needs research that considers high ethical standards, engages communities and policymakers and ensues gender equality. Jebari concluded by addressing INRGREF current projects that address the challenge of global change adaptation, promote dialogue and collaboration between science and society and allow a proactive response to emerging climate change impacts.
Finally, the event culminated with a round of questions from the audience. The participants answered relevant topics concerning the role and diversity of the private sector in the Mediterranean region. The three of them agreed that it is important to join efforts with policymakers to support interactive innovation models fostering collaboration with high education centres and private sectors, especially SMEs. It was also concluded that it is crucial to highlight the role of gender equality to make sure that all contributions from all parts of society are put into value in order to further rural development and transformation in the Mediterranean region.
The session was streamed online and can be revisited below. To see it in french click here.
To learn more about our commitment with #ResearchExcellence, follow #FASTERH2020 on Facebook and Twitter

---
Subscribe to our Newsletter to stay informed about the activities carried out by the project.