📅25 October 2021
📍 Online Meeting
Last monday, FASTER's 6th and last Steering Committee took place. This online internal meeting was an opportunity for the Consortium to gather and discuss the main achievements reached during the last few months, but also to look back at the impact of the FASTER project since its creation.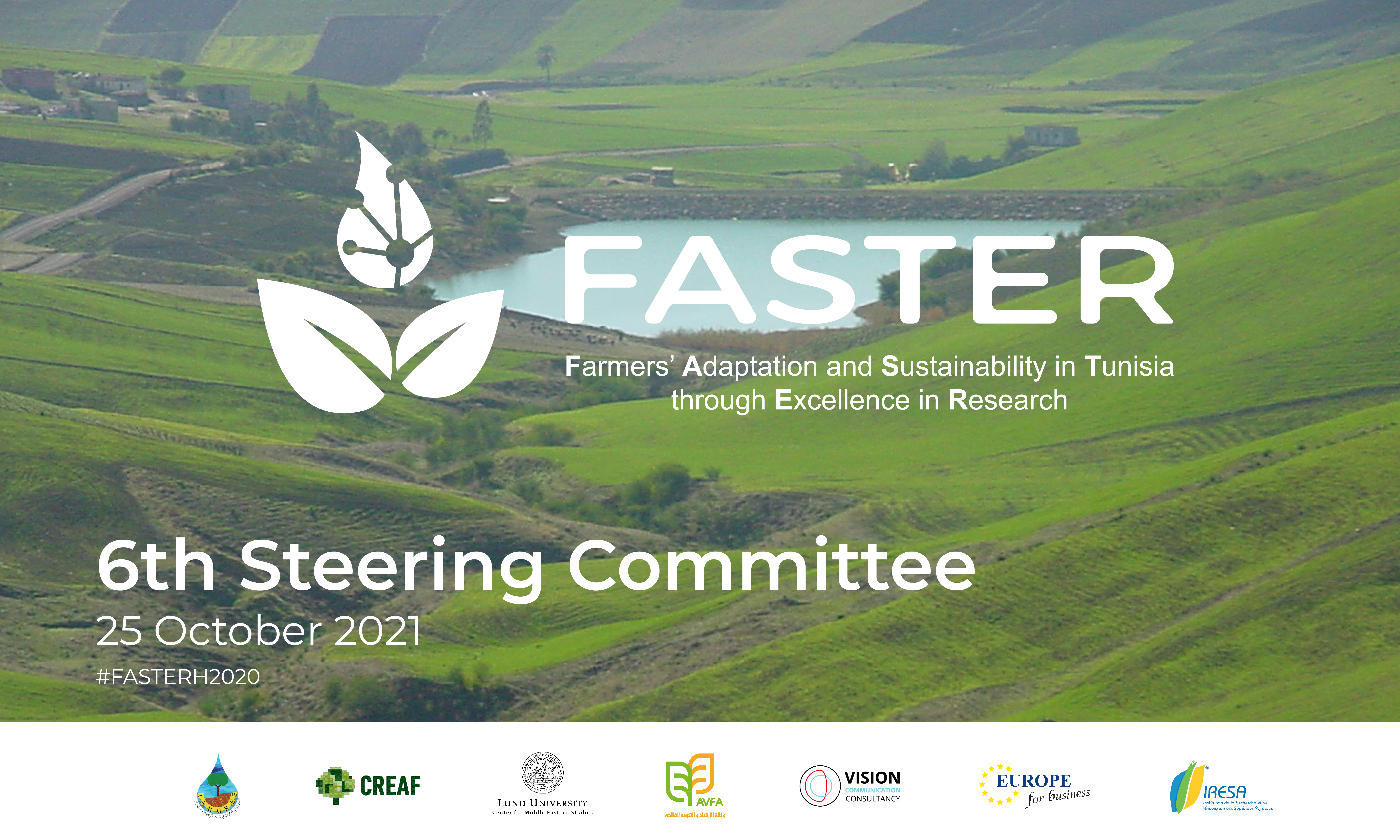 One of the main topics of the meeting was FASTER's Final Conference, which signifies the great success of a project launched 3 years ago. The hybrid format of this event is a great example of how FASTER has striven to fulfill its objectives in spite of the COVID-19 outbreak, which caught the project halfway through its life. In that sense, the shift towards a new reality has not stopped FASTER from following its objective of supporting INRGREF research excellence on adaptation to climate change in Tunisia.
Moreover, the cooperation between the different partners has delivered many positive outcomes, such as the E-learning platform, FASTER Excellence Hub and the upcoming Atlas for Adaptation to Climate change. Altogether, these achievements show how the impact of the project will still be present once it has concluded.
The way forward: publication of final results
FASTER Consortium used the time during the Steering Committee meeting to analyse the feedback received on the above-mentioned products previewed in Tunisia, from stakeholders who participated to the final event. Their vision is being included now in the finetuning process and final products will be published on the project's official channels in the coming weeks.
With the project coming to an end, it is now time to congratulate the consortium for their commitment and dedication to FASTER's mission of supporting excellence in research on adaptation to climate change in Tunisia.
The hope is that the sustainability strategy created by the FASTER Consortium will be able to keep alive the results of the project, and that multiple collaborations can continue to flourish thanks to them.
To learn more about our commitment to #ResearchExcellence, follow #FASTERH2020 on Facebook and Twitter

---
Subscribe to our Newsletter to stay informed about the activities carried out by the project.