FASTER organises its Spring School Program on Farmer Advisory Services. Two Spring Schools will be held until 2021.
The first Spring School consists on 5-days activities including training, interactive workshops and field trips to interact and share experiences, as well as contributing to the co-design of adaptation solutions and improving the production of relevant scientific information relevant in farmer advice.
📅 16 – 20 March 2020
📍Tabarka, Tunisia
👥 Experts, farm advisory agents, technicians, engineers and other actors of the agriculture sector in North and North-West Tunisia
The FASTER Spring School aims to enhance the transfer of knowledge between researchers and experts to farm advisory agents and professional organizations in the agricultural sector. In particular, the spring school program will actively engage participants to adopt the user-centred and multi-stakeholder approach to integrate research results and professional knowledge on the specific topics related to adaptation to climate change in the fields of water, soil and agriculture.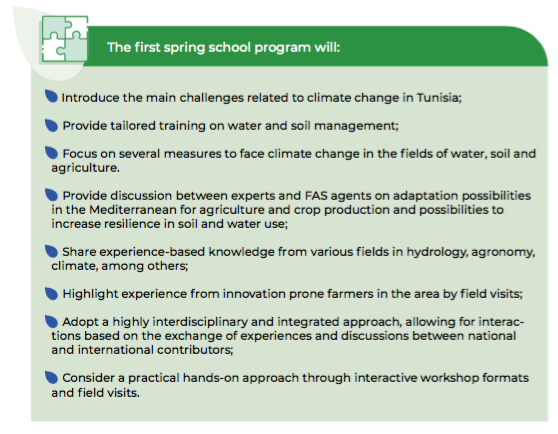 ---
---
Proposed themes for the week

The first day of spring school aims to bring a general overview of climate change effects expected for Tunisia as a whole and the Northwest in particular for water access and agriculture.
---

Participants will have the possibility to discuss the effects of water balances and water use. Leading question will be, for example, what are the possibilities for different types of marginal water use in the future?
---

The morning will be devoted to interactive seminars. The afternoon will be dedicated to field visits to get hands-on about performing data collection and modelling in hydrology and agriculture.
---

To achieve more practical experience, the participants will be engaged in a full day of field visits.
---

The last day of spring school will revolve around practical management of soils, salinity, and crops. The discussions aim to identify and validate adaptation possibilities to face the upcoming climate change envisioned during the first day of classes.
---
To learn more about how we improve #ResearchExcellence, follow #FASTERH2020 on Facebook and Twitter

---
Subscribe to our Newsletter to stay informed about the activities carried out by the project.