In the frame of its Living Lab process, FASTER will be organising a Summer School for Farmer Advisory Services between May 24th and June 4th 2021.
The Summer School will provide tailored training activities on adaptation to climate change to practitioners of the agricultural sector engaged in the Tunisian Farm Advisory System. These courses aim to provide participants with a solid theoretical background on these topics, also including specific training on how to communicate engagingly and effectively the solutions proposed in the factsheets to farmers and decision-makers.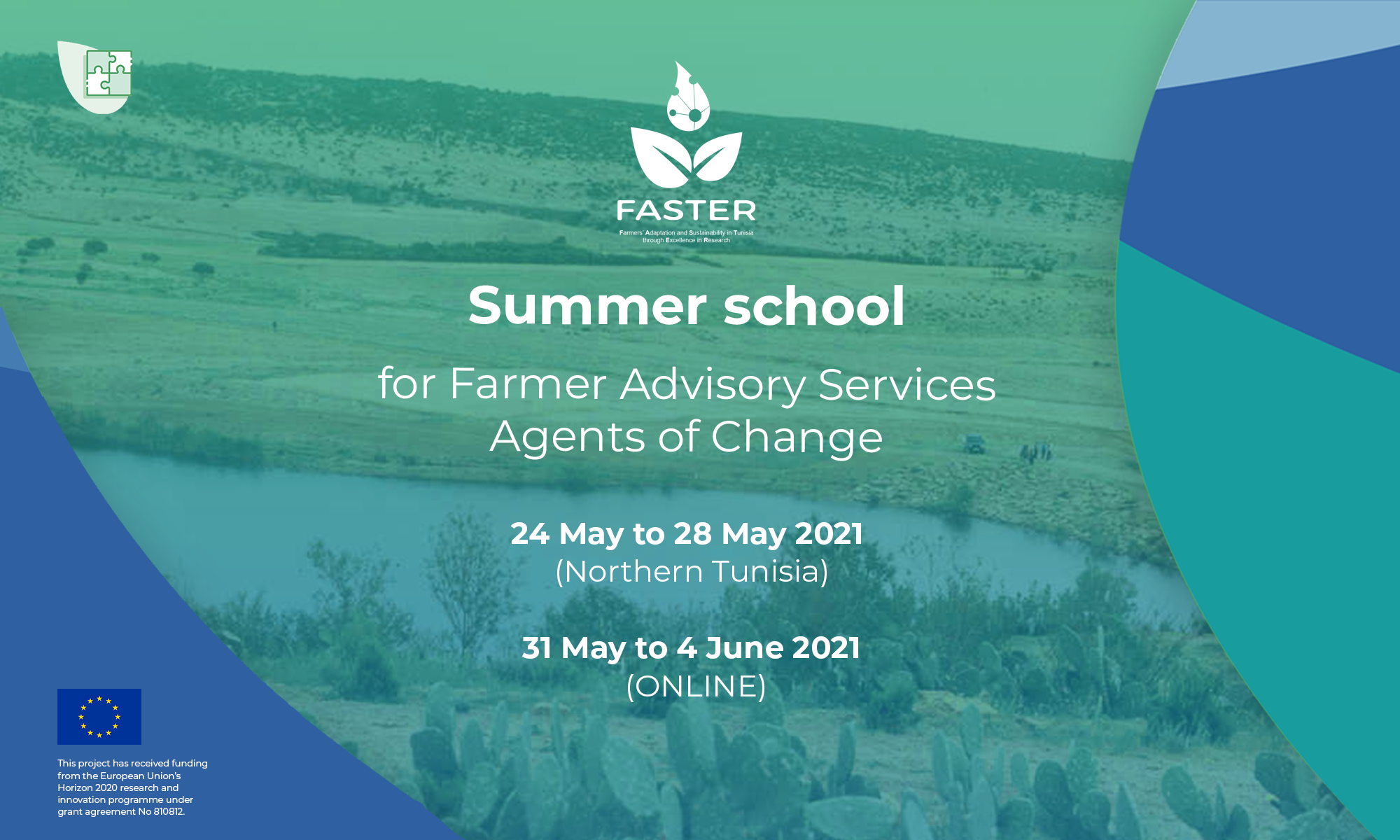 The first week of the Summer School, from May 24th to May 28th, international experts will lead training sessions on issues related to adaptation strategies to face climate change. Also, each afternoon the Living Lab Working Groups will present the result's of two years of hard work and collaboration by unveiling a set of co-created factsheets on the day's specific topic to transmit their key findings and advice on opportunities to improve climate change adaptation for the agricultural sector. The topics that will be covered each day are:
Water Managemet
Soil Management
Forest Management
Crop Production
Fishery and Livestock Management
The participants will have the opportunity to discuss the factsheets with the authors and participate in an open debate between researchers, FAS agents and different stakeholders.
The second week, from May 31st to June 4th, will be destined for an in-depth debate about the four topics learned during the previous week (water, soil and forest management, fishery and crop production). The participants will attend different interactive sessions along with high-level experts and professional trainers to debate their courses and integrate research results and conclusions with experience-based knowledge.
While attending FASTER's Summer School, participants will have the opportunity to learn from in-depth presentations on the key messages transferred and grasp the opportunity to share their perspectives with the authors.
Do you want to know more about the Living Lab process?
Watch this video!
Follow #FASTERH2020 on Facebook and Twitter to stay updated on its implementations and new courses.

---
Subscribe to our Newsletter to stay informed about the activities carried out by the project.